Some agents are even buying machines themselves in order to show their homes from a different perspective; and while this extra effort is admirable, it is also very probably illegal unless they happen to have permission from the CAA as well as sufficient Public Liability Insurance.
Since 2009, anyone flying UAV's commercially (for example, to take aerial photos of property for sale) has to:
be in receipt of formal permission from the CAA (Civil Aviation Authority)
be able to supply the CAA with evidence of their competence. If you're new to the industry you would need to complete a course with someone like Resource UAS.
be able to supply sample risk assessments and maintenance schedules as part of an operations manual, and
have sufficient Public Liability Insurance cover. (£10M would be a good number)
The CAA Permission is a costly and time-consuming authorisation to acquire, but without it anyone flying these machines commercially is taking a fairly high risk – especially because of the potential to injure or kill someone.
Additionally, if you as an estate agent hire a contractor to take your UAV photos for you then you will also have responsibilities under Health and Safety legislation covering the hire of contractors. You would need to be sure of your contractor's competence and their qualifications if you do not want to find yourself accountable too in the event of an accident.
That apart, if a UAV flown by someone unqualified and hired or recommended by you falls out of the sky and damages their Bentley, or worse, injures or kills a member of their family, how do you think that would play with your vendor?
The Benefits
It's easy to understand why the idea of presenting homes using photos taken from the air is so appealing. They provide a completely different perspective on properties offered for sale and they fulfil the highly desirable objective of making homes stand out from the competition on the portals and in other advertising. Also, UAV's provide the possibility of video which, done correctly, can look really beautiful and will certainly help attract interest in the property being sold.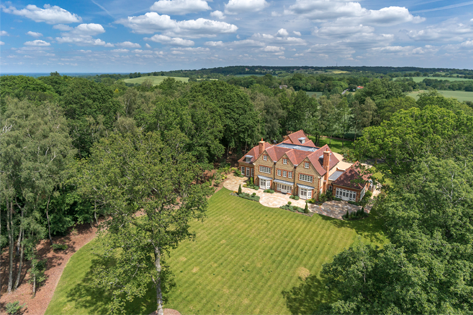 Credit Photo by Horizon Imaging
For the right properties – generally country houses and the like – their potential is enormous. How else would it be possible in one photo to show the extent of a property that has many acres? And just how would that photo of the house look if taken at height over the centre of the lake?
I know how tempting it is to take the risk and buy a cheap UAV, mount a GoPro camera – small and lightweight – and head out to your clients' houses in the country for an afternoon's entertainment shooting from the air. But quite apart from the risks you'd be taking, the likelihood is that you'll be really disappointed with the results. The GoPro is great for video but because it has an insanely wide angle of view, stills taken with this camera tend to suffer a high level of distortion – where straight lines appear to be curved.
It really is much more sensible to hire a professional to do the job for you (or better still, get your vendor to do the hiring as they'll benefit from the extra marketing advantage). Professionals fly high-resolution SLR cameras using multi-rotor machines that are designed to carry that kind of load.
Professionals who are any good – such as David Hogg of Horizon Imaging – have the added benefit of using video downlinking so that they can correctly compose their shots from the air – many amateur flyers simply fly blind and hope for the best. I know that David also turns up to his shoots with a full backup rig in case the first one fails – that happens with technology from time to time.
What's it going to cost?
Prices vary but for an hour's shoot you (or preferably your vendor) can expect to pay in the region of £350 plus mileage and editing. But weigh this against the advantage that a photo with the kind of impact (see examples below), will provide for the properties that have been shot that way.
When you're selling a house of (probably) well over £1M, what's £300 or £400?
Credit Photo by Horizon Imaging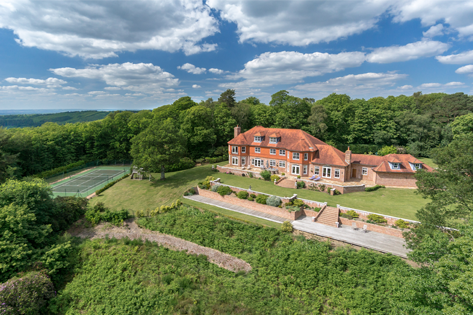 Credit Photo by Horizon Imaging
John Durrant was a partner in an award-winning agency in Woking. He's been featured on the BBC and in the Sunday Telegraph. John wrote the 12,000-word Guidance on Property Photography for the RICS and today he photographs some of the finest homes in Surrey and West Sussex. Additionally his Doctor Photo business edits/optimises thousands of estate agents' own photos each month and he travels the UK teaching photography workshops to estate agents.